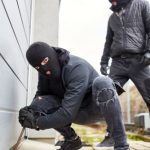 The garage door is often an overlooked entry point for burglars, making it a crucial area to focus on when it comes to home security. By implementing the right measures, you can boost the safety of your garage and protect your home from potential break-ins. In this blog post, we will provide you with some essential garage door security tips to help you safeguard your home and belongings.
1. Invest in a Sturdy Garage Door:
When it comes to garage door security, the first step is to ensure you have a robust and reliable garage door in place. Choose a door made of sturdy materials such as steel and reinforced with proper insulation. Avoid flimsy doors that can be easily manipulated or forced open.
2. Install Quality Locks and Bolts:
Many garage doors have built-in locks, but they are often not sufficient to deter determined intruders. Consider installing additional locks and bolts to reinforce your garage security. These can include deadbolt locks and slide locks that provide an extra layer of protection against forced entry.
3. Install a Security System:
A comprehensive security system is a must-have for any home, including your garage. Install a motion sensor or an alarm system specifically designed for the garage area. This will not only alert you of any suspicious activity but also act as a deterrent, making burglars think twice before targeting your home.
4. Keep Your Garage Door Opener Secure:
Your garage door opener is like a key to your home, so keep it safe. Avoid leaving it visible in your car or garage. Consider purchasing a keychain remote opener instead of a regular one, allowing you to keep it with you at all times. Furthermore, remember to change the access code periodically to prevent unauthorized access.
5. Utilize a Timer for Lighting:
Use a timer to control the garage lights when you are away from home. Timing them to turn on and off at different intervals will create the illusion that someone is present, deterring potential burglars. Additionally, a well-lit garage makes it more difficult for them to stay hidden or discreet.
6. Reinforce Windows and Glass:
If your garage has windows or glass panels, reinforce them with security film or shatterproof glass. This will make it more challenging for intruders to break in through these access points. Alternatively, you can cover the windows with curtains or blinds to prevent prying eyes from seeing what's inside.
7. Secure the Emergency Release:
Garage doors usually have an emergency release lever, which can be easily manipulated by burglars. To increase security, secure the emergency release with a zip tie or add a garage door release shield. This will prevent criminals from accessing the manual release from outside, keeping your garage door secure.
8. Keep Your Garage Well-Maintained:
Maintaining your garage door is not only important for its functionality but also for security purposes. Regularly check for any signs of wear and tear, such as loose hinges, faulty springs, or damaged tracks. A well-maintained garage door is more resilient against break-ins.
Conclusion:
Securing your garage door is vital in ensuring the overall safety of your home. By implementing these garage door security tips, you can protect your valuables and minimize the risk of burglary. Remember, it's better to be proactive and invest in security measures now than regret it later. So, take the time to assess your garage's security needs and make any necessary improvements to keep your home safe and sound.
Got Questions? Let Us Help!
Denton Overhead Door & Garage Door Repair has been repairing garage doors and openers in Denton, Texas for over 35 years. We are family-owned and operated and service all of Denton and the surrounding counties with 24-hour emergency service. Come and visit us in our showroom right here in Denton. At Denton Overhead Door & Garage Door Repair, we service a variety of brand-name doors, including Amarr Doors, Raynor Doors, Liftmaster-Chamberlin, Pro Door Systems, and more! If you need repair at your home during regular hours, we give free estimates and don't charge a service call or trip fee! We offer Garage Door repair and replacement for both residential and commercial applications. Call us today!
Categorised in: Garage Door Security