Garage doors are important safety features for your residential or commercial space, and their installation, inspection, and repair process may be quite tasking. Well, the thing is, you must always turn to the best professionals for help. At 
Denton Overhead Garage Door
, we offer experienced and professional garage door services. We are firm believers in excellence when it comes to providing our services. We have been in the industry for 35 years serving home and business owners. We perform repairs and installations regardless of the type of door or manufacturer. Reach out to us today for free consultation or estimate for your garage door installation or repair.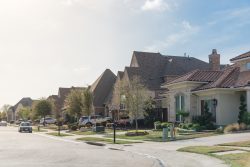 Garage Door Repair in Grapevine, TX
At Denton Overhead Garage Door, all our technicians are highly skilled and certified. They can handle all repairs regardless of the make or model of your overhead garage door. Here are some of the excellent repair services that we provide:
Torsion Springs
Torsion springs are mounted on either side or above the garage doors. The springs are always mounted to an axle and spring anchor bracket. Torsion springs often have a limited lifespan. They are suitable for 5 to 40 years of daily use. Most Torsion springs break because of stress, excessive friction, bent tracks, misaligned doors, or worn-out rollers. If you notice signs such as loose or broken cables, stop-and-go or slow door opening, or a loud bang from the garage, it may mean your springs are just broken. You simply need to contact a garage door service provider like Denton Overhead Garage Door right away. Avoid trying these repairs yourself!
Extension Springs
The problems you are having with your door may be caused by your tension springs. Tension springs can be extremely dangerous to repair on your own. You need a trained and experienced professional who can handle worn-out or snapped springs and replace them with new ones. At Denton Overhead Door, we have a highly skilled team of experts who can help you repair your extension springs.
Cable Repair
When servicing your springs, it is always recommended that you check your cables too. If you have slackened, worn, or broken cables, we will help you replace and reset them to ensure proper door function.
Rollers have a finite lifespan and wear out over time; this easily causes the door to come off track. All rollers require special lubrication to keep them rolling smoothly. Avoid certain lubricants that cause the roller bearing to dry and causing corrosion. Rollers are essential parts to keep your door from falling. Get in touch with us today. We can help you get your tracks realigned and avoid significant garage door failure.
Panels
Your aluminum garage door panel might look as if they are in good condition, but maybe unseen issues are causing problems to your door. Issues such as warping and dents to individual panels, missing hardware, squealing, or screeching while your door is in motion may not be easily visible but would require attention as soon as possible. At Denton Overhead Garage Door, we provide garage door panel repair in Grapevine, TX. We aim to keep your garage door strong, durable, safe, and properly working.
Motor
A motor is used to hoist and lower your garage door. A well-working motor is a huge convenience, while a motor with problems affects your garage door installation entirely. If your commercial or residential garage door motor needs repair, contact Denton Overhead Garage Door immediately. We will inspect your motor, diagnose any issues with the motor, replace or repair it accordingly
Garage Door Installation in Grapevine, TX
The garage door installation process involves moving parts – heavy parts sometimes. At Denton Overhead Garage Door, we pride ourselves on our abilities to offer easy, quick, and quality craftmanship on garage door installation in Grapevine, TX. We can handle any installation regardless of the type of door or brand. With our several years of experience, we are premier service providers for both commercial and residential garage door services. Check out the below installation services we provide:
Residential
With our experienced technicians, we can provide professional installation services to your residential garage door in an efficient and timely manner. No matter your brand or the make of your door, we are equipped with expertise and tools to handle your unique door's needs.
Commercial/Restaurants
Our experience and expertise with commercial overhead doors make us the best in the industry. We understand the different designs, makes, and specialized demands of every type of overhead door, which makes Denton Overhead Garage Door a unique and qualified provider of commercial garage door services in Grapevine, TX. Call us now for commercial garage door installation services.
Custom Sizes
We offer custom garage door installations to help your home or business stand out. Our main aim is to help your home or business achieve a unique and desired look. Through your imagination, you can craft your garage door using various options like color, finish, panels, size, material, style, or style, and we will help you activate it.
Glass Options
Glass garage doors tend to be noticed more easily and add some ambiance to your structure. Denton Overhead Garage Door can show you why a glass garage can work for your business or home and help you do the installation. With the help of our highly trained personnel, we can install the glass garage door and, importantly, enhance the curb appeal being sought. Of course, one ideal glass option is the frosted glass garage door.
Metal Options
We offer garage door installation services for various types of metals. Our highly skilled technicians have enough experience working with steel and aluminum materials which are the most common. If you are looking for any metallic garage door installer, we got you covered, just reach out to us, and we will help you get it done.
Wood Options
Wood garage doors are offered in different styles, which include windows. If you want a wood garage door installer in Grapevine, TX, contact Denton Overhead Garage Door. We have more than three decades of experience in this business and help you achieve your desired design
Quality Materials
Denton Overhead Garage Door has been in the industry for years and understands what material is good for what and what is not. If you are having a problem deciding on which material to use in installing your garage door, we will guide you on the best material for your structure as well as help you install it.
Trusted Brands
As the lead players in the industry, we have worked with some of the biggest and trusted brands. In collaboration with trusted brand partners, we can help you get quality products and install your dream garage door.
Garage Door Maintenance & Inspections in Grapevine, TX
A perfectly performing garage door is an indication that the sum of its parts is also working fine. One to ensure your garage door and its parts are always in good condition through inspection and maintenance. At Denton Overhead Garage Door Grapevine, TX, we offer garage door inspection and maintenance services, and we endeavor to give our clients the best.
Need a Garage Door Repairman in Grapevine, TX?
Are you in need of a commercial or residential garage door repairman in Grapevine, TX? Denton Overhead Garage Door is a resource for all matters involving garage door repair in Grapevine, TX. We are equipped with everything you need to get you back to working flawlessly. As soon as your overhead stops working or become unsafe, call us, and we will be right there to address your concerns
Grapevine Garage Repair & Installation FAQs
Denton Overhead Garage Door is just one call away when it comes to garage doors repair, installation, inspection, and maintenance. If you are in Grapevine, TX contacts us at 940-323-1111; we will get in touch and help you solve any issues affecting your garage door. We are open to both commercial and residential calls regardless of your model or make of your door.
How Much Does Garage Door Repair Cost in Grapevine, TX?
The cost of garage door repair in Grapevine, TX, depends on several factors, like the extent of damage and the type of door you have. Luckily, you can contact Denton Overhead Garage Door and receive free consultation and cost estimates before you commit to paying for your repairs.
How Much Do New Residential Garage Doors Cost in Grapevine, TX?
Depending on the material used, the size of the garage door, and the nature of the installation, a new residential garage door in Grapevine will cost between $350 and $1500. To be sure of the exact cost, call us for a free quote.
How Much Do New Commercial Garage Doors Cost in Grapevine, TX?
Depending on the material used, size of the garage door, and nature, a new commercial garage door in Grapevine, TX, will cost between $500 and $2700. First, however, call us for a quote. Our prices are customer friendly.
How Much Does it Cost to Have a Garage Door Inspected in Grapevine, TX?
Inspecting your garage door may not be as expensive as repairing or installing a new one. For information about the cost of inspection, make a point to call us at Denton Overhead Garage Door Contact us to find out about our inspection services!
Phone: (940) 350-3667