Garage doors play important roles in both homes and businesses in Flower Mound, TX. Our professional team is here to help you with all of your garage door needs!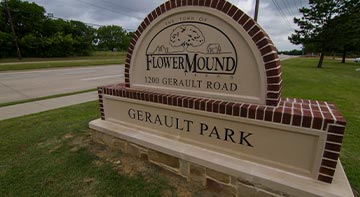 Repairs & Replacements
Problems with your door can get in the way of your daily routine, leading to a tremendous amount of stress. We are here to handle repairs. Some of the common issues we face include:
Torsion Springs
Torsion springs use torque to generate force that moves and supports the door. Busted torsion springs can lead to serious issues, which we can address.
Extension Springs
Extension springs expand and contract, generating energy to move the door. If one of these springs snaps, it can grind the door to a halt. We can identify and replace these springs quickly.
Cable Repair
The door cable is engaged every time the door moves. If your cable is worn out, you might hear strange noises. We can look at your cable and fix it quickly.
Rollers
In order for it to stay on track, the rollers have to do their job. If there is a squeaky, noisy, or broken roller, our team can take a look and fix the issue.
Panels
Your panels provide both security and aesthetics for your home or place of business. Busted panels can pose security problems and reduce your building's curb appeal. We can identify and rectify these issues quickly.
Motor
If you hear strange noises coming from your motor, this is a bad sign. Contact our team to take a look at your motor before it burns out completely. We can diagnose and repair broken door motors.
Garage Door Services
Our team also handles installations in Flower Mound, TX. Some of the most common installation jobs we handle include:
Residential
You need to have a solid door not only for security reasons but also for curb appeal. We provide a wide selection of residential garage doors for your home.
Commercial/Restaurants
You need a strong door for your business. We know that industry needs vary from place to place. Our team will work with you to find a commercial garage door that fits your needs, whether you run a restaurant, a warehouse, or something in between.
Custom Sizes
If you need a specialized size for your door, our designers and engineers can help you come up with an answer. We handle custom jobs regularly and we can meet your needs as well.
Glass Options
If you want to enhance the natural light of your building, a glass door is the answer. In addition to boosting the curb appeal of your home or office, a sectional glass door can also save space!
Metal Options
Metal is the strongest option for doors. We have a myriad of metals you can use to enhance the security of your home or office.
Wood Options
For a classic, traditional feel, a wooden door in the way to go. We stock several different types of wood so that you can tailor your door to meet your needs.
Quality Materials
We place the needs of our clients ahead of our own. That is why we invest in the best materials available. We want to provide you with a door that not only looks good but remains reliable for years.
Trusted Brands
We only partner with companies and brands in the industry who have a track record of success. This allows us to provide our customers with versatility, reliability, and value in each and every garage door we install.
Garage Door Maintenance & Inspections in Flower Mound, TX
In order for you to make the most of your door in Flower Mound, TX, you need to take care of it! That is where our maintenance and inspection services are essential. With regular maintenance, we can extend the life of your door and identify repairs before they cause major problems!
Points of Interest & Activities in Flower Mound, TX
We are committed to the needs of the families and businesses in Flower Mound. Some of our favorite sights around town include:
LLELA Nature Preserve
Greenery and landscapes contribute to the beauty of Flower Mound. LLELA Nature Preserve provides opportunities for walking trails, fishing, camping, kayaking, and more!
Heritage Park
Heritage Park has a wide variety of outdoor activities that are ideal for exercising, hanging with friends, and enjoying time with family.
Northshore Trail
Anyone who loves to hike has to check out the Northshore Trail, which provides unparalleled views of the local area.
Grapevine Lake
To beat the heat, Grapevine Lake is the perfect location! Water sports, swimming, and more are available at this gorgeous waterscape!
The Moviehouse & Eatery
For a fun night out, The Moviehouse and Eatery is the place to be! With delicious food and an active nightlife, this is always an exciting time!
Twin Coves Park
This is a 234-acre park that sits on top of a lake! It even includes a boat ramp, shaded picnic tables, and a fishing pier!
Need a Garage Door Repairman in Flower Mound, TX?
If you are looking for a repairman in Denton, TX, we have you covered! Our professionals will be with you from start to finish, ensuring that your needs are met!
Flower Mound Garage Repair & Installation FAQs
Contact our team at Denton Overhead Garage Door today to schedule a repair or installation in Flower Mound, TX! A few of the most common questions we get asked include:
How Much Does Garage Door Repair Cost in Flower Mound, TX?
Some repairs are more expensive than others. A broken spring might be easier to fix than a broken motor. We will provide you with a transparent quote before the job starts.
How Much Do New Residential Garage Doors Cost in Flower Mound, TX?
The materials used to make the door, as well as the size and structure of the home, will play roles in the quotes we provide for our doors.
How Much Do New Commercial Garage Doors Cost in Flower Mound, TX?
The size of the door, its materials, and the brand will play roles in the pricing of our commercial doors. We will structure our payment plans in a way that is affordable for your business!
How Much Does it Cost to Have a Garage Door Inspected in Flower Mound, TX?
We take great pride in the competitive prices we provide for our comprehensive inspection. Contact us with the details of your door and we'll be happy to provide a quote and schedule an inspection!