If you need garage door installation or repair services in Corinth, TX, we have you covered. We will be with you every step of the way, making sure that you have the best garage door the industry can provide! Learn more about our services below!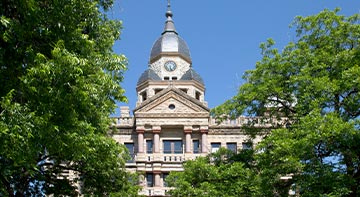 Repairs & Replacements
Garage door repairs can be frustrating. You need it to be both accessible and secure. If something is wrong with yours, trust our professionals to handle it! Some of the repairs we take care of on a regular basis include:
Torsion Springs
Your torsion springs exert a rotary force to control the movement of your door. Issues with the torsion springs can bring it to a screeching halt. Our technicians are trained to identify and repair problems with your torsion springs.
Extension Springs
Extension springs use resistance and stored energy to move your door. Problems with extension springs are common with doors. We will repair your extension springs quickly, making sure your door works reliably once again.
Cable Repair
Your cable is under constant stress as it opens and closes the door. Eventually, your cable might wear out. When this happens, we are here to help.
Rollers
If one or more of the rollers on your door falls off the track, your door could be rendered inoperable. We have a lot of experience dealing with rollers that break. We can rectify this situation quickly.
Panels
Your door panels are exposed to adverse weather, yard equipment, children playing, cars, and more. Over time, your panels might accumulate more than a few dings. We can repair your panels and make them look as good as new.
Motor
It is important for you to make sure that your garage door motor works reliably. If you hear strange noises coming from your motor, give us a call. We are happy to take a look.
Garage Door Services
We also handle installation services in the local area. If you need installation help for your door in, Corinth we can handle:
Residential
Your home needs a residential garage door that provides both security and accessibility. We can help you find the right door for your home.
Commercial/Restaurants
Garage doors are important in every industry including warehouses, restaurants, and more. Our professionals will locate the right commercial garage door for your operation.
Custom Sizes
If you need a customized option, we can help you find this as well. No matter what shape or size you need for your door, we have you covered.
Glass Options
Glass option can help you maximize your curb appeal, boosting property values while saving space.
Metal Options
We have access to a number of different metals that we can use to create a strong, secure option. We can review the various options with you, helping you find the right material for your door.
Wood Options
A wooden door can provide you with a classic feel. If you need a door that reminds you of a traditional home, wood is the answer.
Quality Materials
Our garage door company in Corinth invests in the highest quality materials because we consistently place the needs of our customers first. This means that you will have the best door the industry can provide.
Trusted Brands
In order to meet the high expectations of our customers, we have partnered with some of the top brands in the industry. This means that we can provide our customers with an exceptional door at a discount!
Garage Door Maintenance & Inspections in Corinth, TX
Similar to other parts of your home or office, routine maintenance is important. Our professionals at Denton Overhead Garage Door can inspect your garage door regularly, looking for signs of problems before they bloom into a major issue.
Points of Interest & Activities in Argyle, TX
During our time in Corinth, we have fallen in love with the local area! Some of our favorite sites include:
Corinth Community Park
We love the beautiful weather in Corinth and there is no better place to enjoy it than at Corinth Community Park, where trails and outdoor recreation are plentiful!
Oakmont Country Club
We love the beautiful, meticulously cared for golf courses at this country club! Complete with great friends and delicious food, this is the place to be!
Ashton Gardens
Ashton Gardens is a special place filled with beautiful flowers, pleasant scents, and a perfect venue to hold a wedding! There is no better place for a couple to celebrate their special day!
The Israel Prayer Garden
When it comes to a calm place to relax and reflect, there is nothing like the Israel Prayer Garden. The centerpiece garden pays homage to a higher power and allows everyone to give thanks.
Falcon Stadium
Friday night lights are a huge part of Texas and Corinth is no different! Football games at Falcon Stadium are a special sight to behold!
History of Argyle, Texas
We love learning about the great history of the local area. By learning more about our roots, we can build a better future.
Need a Garage Door Repairman in Corinth, TX?
If you require the assistance of a professional repairman in Corinth, TX, we have the answer. Trust our professionals to help you with all of your needs!
Corinth Garage Repair & Installation FAQs
Contact our team today to find out more about the comprehensive services that we provide to our clients. Some of the most common questions we hear include:
How Much Does Garage Door Repair Cost in Corinth, TX?
Repairs for garage doors come in all shapes and sizes. We will review the repair with you ahead of time and provide you with a quote.
How Much Do New Residential Garage Doors Cost in Corinth, TX?
The price of a residential garage door in Corinth can vary widely depending on the size and material. We will be transparent with our pricing.
How Much Do New Commercial Garage Doors Cost in Corinth, TX?
We understand that your business has a budget. We will review the options with you to make sure that you have a high-quality garage door that you can afford.
How Much Does it Cost to Have a Garage Door Inspected in Corinth, TX?
We take great pride in the low prices that we provide for our inspection services. Contact us today to learn more about our maintenance schedule!