You depend on your garage door in Denton, TX to provide security, convenience, and even insulation for your home. If you are looking for garage door repairs or installation in the local area, we are here to help you. Take a look at some of the services our professionals provide!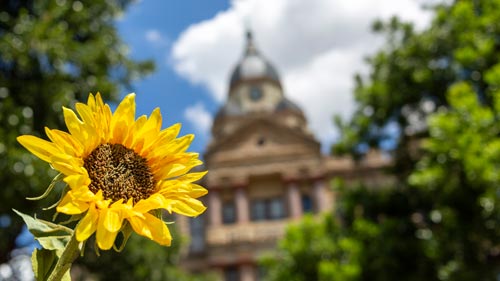 Repairs & Replacements
Door problems can be incredibly frustrating, making it hard for you to get in and out of your building. Our professionals can handle numerous repairs, including:
Torsion Springs
If you are having problems with your door's torsion springs, we know how frustrating this can be. We understand that you want it fixed as quickly as possible. That is why we provide a number of repair services to help you address your needs.
Extension Springs
Extension springs play an important role in residential, and commercial garage doors. We can take a look at your door, identify any problems that might be present with the extension springs, and replace them efficiently.
Cable Repair
Your garage door cable does a lot of work on a daily basis. Eventually, it might get worn out and need to be repaired or replaced. Our professionals can inspect your cable and either repair or replace it depending on the problem.
Rollers
The rollers are responsible for keeping your door on its track. A problem with a single roller could make it impossible for it to open and close. Our team will analyze your rollers and return your door to its track.
Panels
If you have panels on it, you know the beatings they take. Between the elements, cars dinging them, and children banging toys against them, you might need your panels repaired. We know how to take care of this problem quickly.
Motor
Your garage door motor has an important job. Eventually, it might get burned out. If this happens, our team will come out and inspect your motor. Then, we can advise you on repair or replacement options.
Garage Door Services
If you have a new door that you need installed, we offer a range of services to take care of your needs from start to finish.
Residential
Whether you have a one-car or two-car garage, we have the right option for your residential garage door needs. We can help you find a door that will last for years.
Commercial/Restaurants
If you are looking for a commercial garage door, we know that needs vary from industry to industry. We have a range of options that can fit businesses ranging from warehouses to restaurants and everything in between.
Custom Sizes
Our doors also come in custom sizes. This allows us to tailor our options to meet your needs.
Glass Options
Glass is one of our most popular options. With materials that are aesthetically pleasing, a glass door is sure to make a strong first impression on every visitor.
Metal Options
If you are looking for a durable door that will provide you with the highest level of security, metal options are the way to go. Our metal door can stand up to the strongest weather conditions in the local area.
Wood Options
A wood door will give your building a classic feel. We provide a wide range of wood options that will match the style of almost any building.
Quality Materials
We use only the highest quality materials in our doors because we believe this allows us to provide the best possible products for our customers.
Trusted Brands
We maintain connections with some of the leading brands in the industry. This allows us to provide you with access to the best doors on the market at the most affordable price.
Garage Door Maintenance & Inspections in Denton, TX
If you want to get the most out of your door, then you need to invest in routine maintenance. Our professionals will come out and take a look at your door to ensure that any problems are addressed and repaired before they lead to major problems.
Points of Interest & Activities in Denton, TX
During the time that we have been serving Denton, TX, we have fallen in love with this area. Take a look at some of our favorite sights in the region!
University of North Texas
The University of North Texas is one of the top universities in the region, providing students with access to some of the finest professors in the country.
Texas Women's University
Texas Women's University is known for breaking down barriers and ensuring everyone has access to the education they deserve.
Green Eagle Football (UNT)
Green Eagle Football represents UNT with pride. Their games consistently sell out and they field an exciting, competitive team every year.
Ray Roberts Lake State Park
Anyone who loves the outdoors will fall in love with Ray Roberts Lake State Park. Particularly during the summer, this is one of the best ways to beat the heat!
The Chairy Orchard
There is nothing like The Chairy Orchard in Denton, TX. A wonderful activity for bonding with family members and friends, this is a sight that everyone should check out!
Denton County Courthouse-on-the Square Museum
If you are looking for a way to escape the heat with an indoor, educational activity, this museum is the place to go. With rotating attractions and informative guides, the Denton County Courthouse Museum has something for everyone.
Need a Garage Door Repairman in Denton, TX?
If you are looking for a repairman in Denton, TX, we have you covered! Our professionals will be with you from start to finish, ensuring that your needs are met!
Denton Garage Repair & Installation FAQs
Contact Denton Overhead Garage Door today to learn more about how we can help you! Take a look at some of the most common questions we get asked below!
How Much Does Garage Door Repair Cost in Denton, TX?
The exact cost of a repair will depend on the problem. Our professionals can analyze the problem quickly and provide you with a quote.
How Much Do New Residential Garage Doors Cost in Denton, TX?
The cost of residential doors will depend on the size of the door as well as the material. We will be upfront with all of our costs.
How Much Do New Commercial Garage Doors Cost in Denton, TX?
Commercial doors depend on the industry, the brand, the material, and the size. Our professionals will be transparent with all of our pricing.
How Much Does it Cost to Have a Garage Door Inspected in Denton, TX?
We have some of the lowest-priced inspection services on the market. If you want to learn more about our inspection pricing, contact us and tell us about your door! We can provide you with a free quote!