Your garage door should work with the press of a button. If it doesn't, it's time to call Denton Overhead Garage Door. Customers throughout the Argyle, TX area trust us for garage door repair, and we're equipped to work on residential and commercial door models. Count on us for installation, repairs and general maintenance. No matter the scope of service we provide, we guarantee you'll be left with a door that's safe and functional, ready to serve you.
Residential Doors Service
Our garage door repair capabilities are encompassing, and we promise you won't need to call anyone else to service your door. From basic repairs, to component replacements, to completely new garage door installations—we do it all to the highest possible standard. Our goal is to be your residential garage door service provider from the moment you install your door, to the moment you need service for it.
Our experience with garage door repair has left us equipped to handle any make or model. We'll ensure your door gets timely service, and we don't leave until it's tested working flawlessly. If your door's on the fritz, we're the ones to call without hesitation.
Commercial Door Service
We also serve the needs of business customers, and can deliver a complete range of service for your commercial garage door installation. Our abilities include the full scope of repairs and maintenance, as well as installation. From warehouses and loading dock doors, to private carparks and beyond, we're an all-in-one expert on the demands of commercial garage doors. We'll keep your doors functional and safe, so your workforce can continue using them with ease each and every day.
Parts and Repairs
The many parts of your garage door need to work together to keep it functioning smoothly. When something goes wrong with any of the vital systems, we're the team to call. Our experts are quick to deduce issues with openers, motors and torsion springs, delivering repairs that restore full function to your door.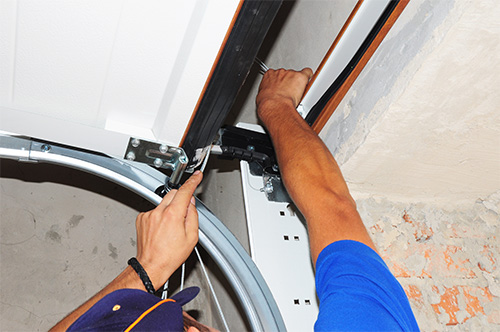 Openers: Garage door opener problems are the most common issues we deal with. We can troubleshoot exactly what's causing your opener to malfunction and will provide the repairs or part replacements necessary to restore it.
Motors: An overworked or burnt-out motor will render your door almost useless. If your door struggles to raise or lower, or your motor is making noise, give us a call. We can repair or replace motors to get your door working smoothly again.
Springs: Your motor can't bear the weight of a door by itself! Torsion springs are an important part of the counterbalance system. Whether you have one or two springs, we're ready to replace them when they break.
Serving Customers in Argyle, TX
When you need garage door service, there's no on better than Denton Overhead Garage Door! We're the go-to company for installation, repair and service, for residential and commercial garage doors throughout the greater Argyle, TX area. Call us today at 940-323-1111 to schedule an appointment. We promise our work will speak for itself.
Contact Us Today!