Your garage door should work with the press of a button. If it doesn't, it's time to call Denton Overhead Garage Door. Customers throughout the Argyle, TX area trust us for garage door repair, and we're equipped to work on residential and commercial door models. Count on us for installation, repairs and general maintenance. No matter the scope of service we provide, we guarantee you'll be left with a door that's safe and functional, ready to serve you.
Residential Doors Service
Our garage door repair capabilities are encompassing, and we promise you won't need to call anyone else to service your door. From basic repairs, to component replacements, to completely new garage door installations—we do it all to the highest possible standard. Our goal is to be your residential garage door service provider from the moment you install your door, to the moment you need service for it.
Our experience with garage door repair has left us equipped to handle any make or model. We'll ensure your door gets timely service, and we don't leave until it's tested working flawlessly. If your door's on the fritz, we're the ones to call without hesitation.
Commercial Door Service
We also serve the needs of business customers, and can deliver a complete range of service for your commercial garage door installation. Our abilities include the full scope of repairs and maintenance, as well as installation. From warehouses and loading dock doors, to private carparks and beyond, we're an all-in-one expert on the demands of commercial garage doors. We'll keep your doors functional and safe, so your workforce can continue using them with ease each and every day.
Parts and Repairs
The many parts of your garage door need to work together to keep it functioning smoothly. When something goes wrong with any of the vital systems, we're the team to call. Our experts are quick to deduce issues with openers, motors and torsion springs, delivering repairs that restore full function to your door.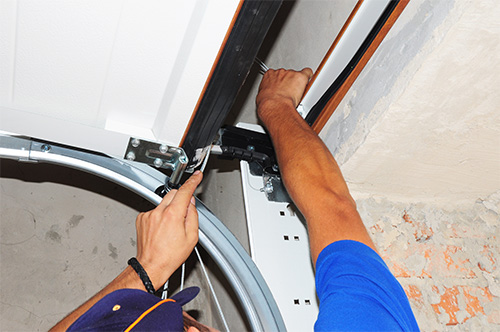 Openers: Garage door opener problems are the most common issues we deal with. We can troubleshoot exactly what's causing your opener to malfunction and will provide the repairs or part replacements necessary to restore it.
Motors: An overworked or burnt-out motor will render your door almost useless. If your door struggles to raise or lower, or your motor is making noise, give us a call. We can repair or replace motors to get your door working smoothly again.
Springs: Your motor can't bear the weight of a door by itself! Torsion springs are an important part of the counterbalance system. Whether you have one or two springs, we're ready to replace them when they break.
24-Hour Emergency Services in Argyle, TX
Trying to leave for work and your door's not responding? Discovered damage to your door late at night? No matter when you need us, Denton Overhead Garage Door is available to provide garage door service. Our team is ready to roll 24 hours a day, because we know how important it is to have a working garage door at all times. Whether you're a third-shift worker or dealing with an emergent problem, we're here for you. We know that a defective garage door isn't just an inconvenience, it's also unsafe. Our trained professionals are quick to troubleshoot mechanical and electrical troubles, to get your door back into proper working order—any time of the day or night.
Free Inspection with Every Service
No matter what you call us for, you'll benefit from the comprehensive service we're known for! After each service, repair or installation, we perform a complementary 32-point safety inspection of your garage door system. This allows us to detect any issues or concerns that might need to be monitored or fixed. And, it gives you complete peace of mind that your garage door installation is in peak working condition. You won't get a more comprehensive garage door inspection process from any other company in Argyle, TX. Our safety inspections are thorough, encompassing your doors tracks, motor, electrical system, counterbalance components and the door itself. We leave no part uninspected, so we can give your door a full bill of health before we leave.
Totally Free Quotes; No Travel Fees
Tired of calling around for garage door service, only to find that other companies want to charge you a fee just to send someone out for a quote? At Denton Overhead Garage Door, that's not how we do things. In fact, we don't charge you anything unless you actually want us to perform work on your door. No quote fees. No travel charges. Nothing out of pocket until it comes time to work on your door! Call for a free price quote on any garage door service. There is no additional charge for a technician visit, with or without receiving service. We make it easy for you to understand what's going on with your door, and to get some insight about the work that needs to be done before you sign a work order.
Learn the Benefits of Garage Door Service in Argyle, TX
Looking for tips on how to keep your garage door installation functional and safe? Denton Overhead Garage Door proudly offers a number of educational resources for overhead door owners. Check out our blog for monthly updates, information and how-to instructions, meant to give you insight on how to keep your door working safely. Have questions? Our techs are always happy to answer them and can provide you with more information about your door upon request, at no additional charge. Give us a call or browse our website for important information about everything garage door related!
Serving Customers in Argyle, TX
When you need garage door service, there's no on better than Denton Overhead Garage Door! We're the go-to company for installation, repair and service, for residential and commercial garage doors throughout the greater Argyle, TX area. Call us today at 940-323-1111 to schedule an appointment. We promise our work will speak for itself.
Contact Us Today!