Denton Overhead Garage Door is the contractor Providence Village, TX customers call when they need garage door services. Count on us to handle installations, repairs and whatever else your door needs to function safely and effectively. Our team has the experience and capability to work on any door, with a track record of results that speaks for itself. Contact us at the first sign of trouble and we'll make sure it's short-lived.
Residential Doors Service
Don't let a malfunctioning garage door become a source of daily frustration for you! Call us for residential garage door repair and restore the convenience to your door. We'll assess the door to figure out what's going on with it, then deliver repairs and part replacements to get it back up and running again. With parts in-stock and the ability to work on any brand of door, we're the only contractors you need to call for reliable service.
Need a new door installed? We can do that too, and we promise a seamless installation that works perfectly from the get-go. We don't leave until the job is done right!
Commercial Door Service
Warehouses and facilities with docks rely on their commercial garage door installation daily. If yours isn't working the way it should be, give us a call. We deliver repairs 24 hours a day—including emergency services. Our team comes equipped to work on most overhead door types, and we can even install new doors that meet your needs. Don't let an inoperable or unsafe door hinder your business. Instead, call us to see that it gets fixed right.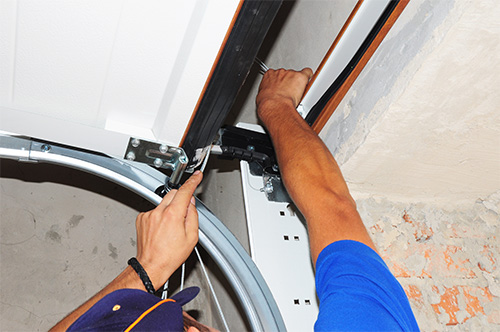 Parts and Repairs
Every part of your garage door plays an important role in keeping it working. Issues with the opener, motor or torsion springs can leave it struggling or make it unsafe to operate. That's why we work hard to deliver solutions that get your door back to working properly. We take the time to do things right, so your door works exactly how it's meant to.
Openers: If your garage door isn't responding to the remote or won't go up and down on command, there may be a problem with the opener. Call us to have it replaced. We can even install smart Wi-Fi openers for easy access and automation.
Motors: Does your garage motor make squealing or squeaking noises every time you open or close the door? Call us to have it inspected and repaired or replaced. We'll make sure your door can function safely and efficiently with a reliable motor mechanism.
Springs: Damaged torsion springs put the weight of the door on the motor. Call us to alleviate that pressure with replacement torsion springs. We'll keep your counterbalance system working right.
24-Hour Emergency Services in Providence Village, TX
Garage door problems don't keep a 9-5 schedule and neither do we! Call Denton Overhead Garage Door for emergency garage door service any time, day or night, 24 hours a day. We're here for those early-morning risers, third-shifters and stay-at-home workers who might need garage door repairs around the clock. Our team comes ready to service your door, no matter what the issue is. From electrical problems to mechanical issues, we'll troubleshoot and repair them at all hours of the day. We know that a faulty door can quickly become both an inconvenience and a safety hazard. It's why we pride ourselves on prompt and decisive service, to keep your door safe and functional.
Free Inspection with Every Service
What's better than top-notch garage door services? How about a completely free 32-point safety inspection with every service? At Denton Overhead Garage Door, our commitment to your safety and satisfaction means a complementary inspection with every service we deliver. We examine your garage door service from top to bottom, so you can be sure it's in its best working condition. Our inspection is thorough, covering the door itself, as well as the counterbalance system, electrical components, motor and tracks. We check the integrity of every vital part and piece, and sign off on a clean bill of health for your door. If we discover anything noteworthy, we let you know right away, along with recommendations on how to move forward.

 
Totally Free Quotes; No Travel Fees
You shouldn't have to pay upfront fees or special charges just to have an expert come and tell you what's wrong with your garage door. That's why Denton Overhead Garage Door doesn't charge travel fees and why we provide all of our Providence Village, TX customers completely free quotes on garage door service. Call for a free price quote on any garage door service. There is no additional charge for a technician visit, with or without receiving service. You get the peace of mind in knowing what's wrong with your door and how much it'll cost to fix it—all without paying a penny upfront. We believe in superior customer service, and that starts by showing you how valuable you are to us as a customer.
Learn the Benefits of Garage Door Service in Providence Village, TX
Want to learn more about your garage door installation and how to keep it working properly? Be sure to check out our blog (updated monthly) for information, how-to instructions, tips and news. Our website is also a great resource for educational materials, and can help you become a more confident overhead door owner. If you have a specific question about your door, feel free to give us a call and speak with a qualified technician. We can answer basic questions about everything from routine maintenance to the need for repairs, no matter what type of door you have. We believe the more you know about your overhead door, the safer you are using it and the longer it will last, thanks to informed care and operation.
Serving Customers in Providence Village, TX
Don't let a faulty garage door become a nuisance. If there's a problem with your residential or commercial overhead door, call the experts at Denton Overhead Garage Door. We're available for service calls throughout the Providence Village, TX area. Contact us at 940-323-1111 and let us know what you need—we'll be happy to schedule a service appointment that's convenient for you.
Contact Us Today!