Looking for a garage door professional you can trust for reliable service at a fair price? Denton Overhead Garage Door is proud of our reputation among Lake Dallas, TX home and business owners, and we can't wait to deliver exceptional garage door services to you. Call us for residential or commercial garage door installation, repair or service. We'll leave you with a door that works and the confident feeling that comes with finding a trustworthy service partner.
Residential Doors Service
You use your garage door every day. When it stops working, it's a major inconvenience! Thankfully, when you call us for garage door repair, it's a short-lived one. Our contractors work quickly to identify the problem and provide solutions. We keep parts on-hand and have experience working with all major residential door brands. There's nothing we can't fix!
More than just repairs, we also provide new installations if the time has come to upgrade your door. If you've got rusted panels or want to update an old system to something more modern, we'll take care of it from start to finish.
Commercial Door Service
Our expertise with commercial garage door installation makes us your trusted provider for services, any time of the day or night. We know your business relies on well-functioning overhead doors, which is why we deliver the repairs they need to function without hindrance. Call us for repairs and routine service—or for new installation to replace an outdated or damaged door. We work with all types of businesses, delivering repairs to doors in any capacity.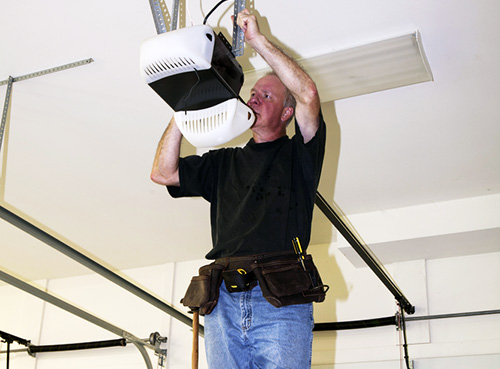 Parts and Repairs
With parts in-stock and advanced expertise in repairing doors of any make or model, we're the contractor to call for help with openers, motors and springs. Our techs will troubleshoot the problem and provide a solution that keeps your door safe and functional. Best of all, we'll do it quickly, so you can start using your door conveniently once again!
Openers: Your garage door should function with the press of a button. If it doesn't, call us to have the opener inspected, serviced or replaced. We can troubleshoot the nature of the problem to provide the right repair, the first time.
Motors: The motor is what raises and lowers your door. If it whines, squeals or makes loud noises during operation, call us right away. We repair and replace faulty motors and components, to ensure the continued safe function of your door.
Springs:. Broken torsion springs need to be repaired to provide support for your door's counterbalance system. Whether your door has one spring or two, rely on us to remove broken springs and replace them with perfectly-wound springs.
Serving Customers in Lake Dallas, TX
If there's a problem with your garage door, Denton Overhead Garage Door has the answer. We serve residential and commercial customers throughout Lake Dallas, TX, delivering installation, repair and service of the highest caliber. Contact us today at 940-323-1111 to schedule an appointment and see why we're the area's first choice for garage door services.